Memorize this, but for god's sake don't act like you know it. Play dumb and ask for directions like everyone else or you'll get flagged and dumped out an airlock.
In the post-planet setting of Coming Apart, the few remaining human communities survive through secrecy. When any nickel-hulled pirate can fold in with a world-ending asteroid, the only defences are to be too small to extort, or to jealously guard your true location.
The Athabasca Fold Network is one one of the largest civilian fold networks, home to three space stations: Serengeti, Pitcairn, and Athabasca itself (a true class V).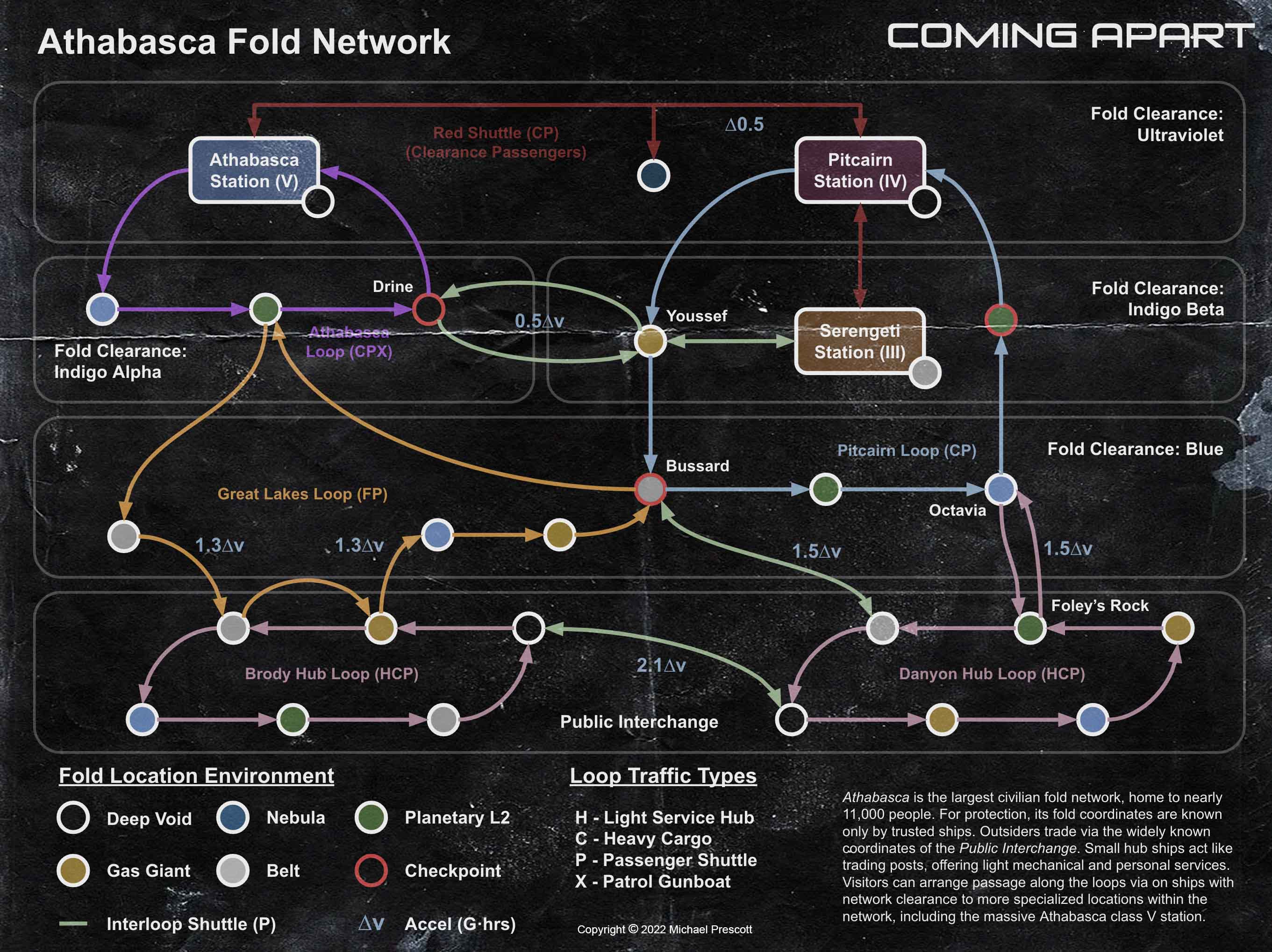 Few visitors stay long, as berths on the stations are eye-wateringly expensive, but thousands make the trek every month to buy services from the many skilled specialists in Athabasca and Pitcairn.
The network is rich in primary resources like water, atmo, nickel and fission elements drawn from Bussard, Octavia and Youssef. Pitcairn station is known for its high quality ship modules, and exports them in large quantities. The network is not self sufficient, however, and imports huge quantities of food and biologicals from its trading partners. Relics of planetary life also fetch a premium here, in great demand among the wealthiest tier of network citizens.
Trade occurs through the public interchange, the lowest-security set of fold coordinates in the network. Here, most any ship is free to dock with the hub ships (commonly Wakatobi class), slow-folding trading posts that make a lazy loop through low-security space. Visitors swap news, sex, and services, or book passage deeper into higher-security parts of the network to broker larger trades on the stations.
While the topology of the network is not considered sensitive, the specific locations in space of the clearance fold points are highly classified. While visitors are welcome to travel through the loops between the stations and the public interchange as passengers, the only ships permitted to fold there known and trusted by the network. Gaining enough trust and goodwill to obtain a navigational security clearance can take years, and the number of high-security clearances is strictly limited by the civil administration.
Athabasca authorities waver between welcoming and wary. Trade visitors are essential, but spies or saboteurs are always probing for information or weaknesses. Agents of pirate gangs or rival networks have standing bounties for information that could compromise locations.
Exterior viewports are rare, as taking astronomical measurements that could be used to locate a high security fold is punishable by death. The larger stations are located in inky black, intergalactic space to make triangulation especially difficult. Visitors are carefully searched for instruments of sabotage, and only specifically licensed citizens may carry anything resembling maintenance tools.
Despite the caution, the network is a vibrant and joyful place, home to a great diversity of people.